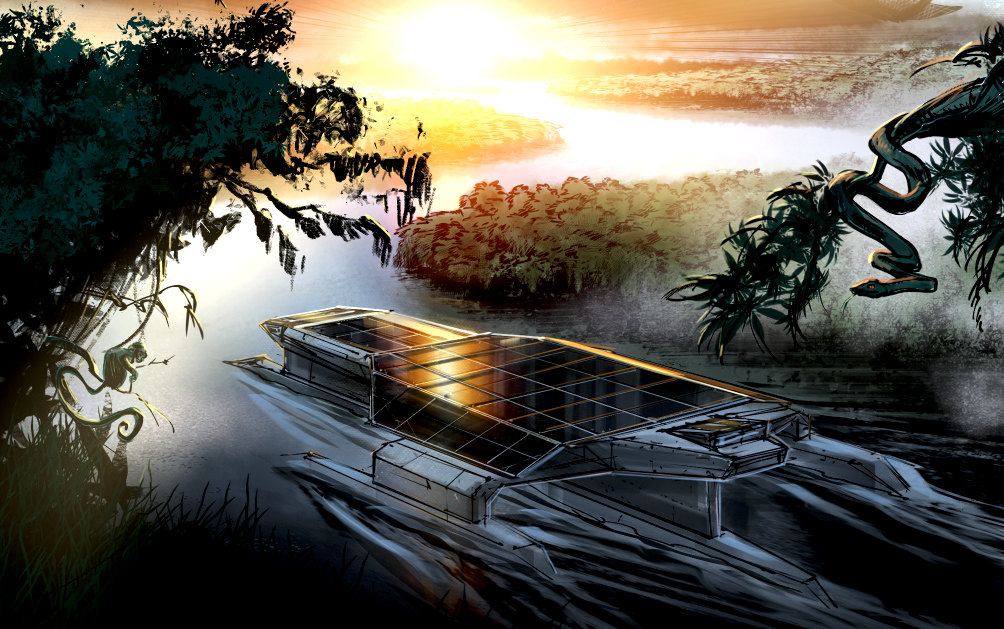 The Elizabeth Swann cruising along the Amazon to Manaus
The Ark is the world's largest DNA database. The life's work of John Storm, in his obsession to understand and catalogue life in Earth. The Ark works particularly well with Hal, the onboard AI, linked via the Elizabeth Swann's management system.
With all systems working together, John is able to decode the genome of any patient, and create a CRISP virus to modify the genes of an animal or human. The latest discovery being that he can cure cancer in some subjects. The system can also be used to enhance animals genetically. As such, John knows he is the guardian of an amazing technology, that should not be allowed to fall into the wrong hands.
Hal is the onboard supercomputer that manages the ship's systems, security and safety features. Hal is an artificially intelligent AI crew member, self learning, and friends with John and Dan, But especially close with John, who is able to communicate via his CyberCore™ nano-computer and BioCore™ brain implant. The Ark is part of this alliance.
The 'Elizabeth Swann' is a solar assisted, hydrogen powered ship that is thought to be the fastest in the world, and the most advanced technologically. She was inspired by the character, Elizabeth Swann, in the Disney's Pirates of the Caribbean movies, (played by Keira Knightley). Though, we know of a lady of the same name who lives in England.
The Swann is equipped with a stunning array of ocean instruments, that makes her invaluable for underwater surveys and other surface marine tasks, under the command of her rugged ocean conservationist captain: John Storm. A man of many talents, who becomes physically and mentally enhanced during his adventures.
The Elizabeth Swann is autonomously piloted by Captain Nemo, named after the Captain of the Nautilus in Jules Verne's classic: 20,000 Leagues Under the Sea. A stand alone unmanned navigation system.