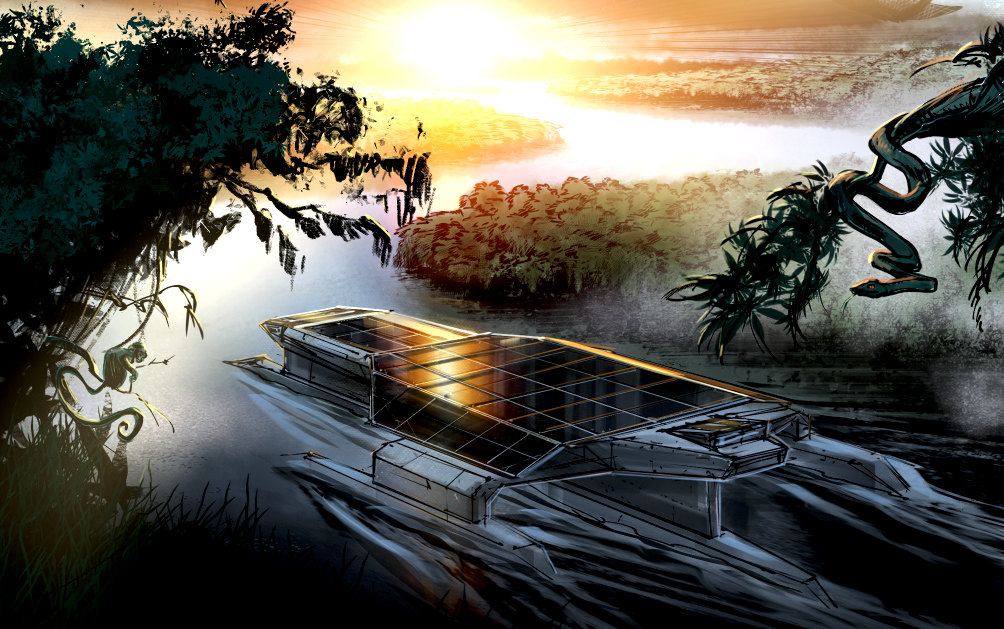 The Elizabeth Swann cruising along the Amazon to Manaus
The 'Elizabeth Swann' is a solar assisted, hydrogen powered ship that is thought to be the fastest in the world, and the most advanced technologically. She was inspired by the character, Elizabeth Swann, in the Disney's Pirates of the Caribbean movies, (played by Keira Knightley). Though, we know of a lady of the same name who lives in England.
The Swann is equipped with a stunning array of ocean instruments, that makes her invaluable for underwater surveys and other surface marine tasks, under the command of her rugged ocean conservationist captain: John Storm. A man of many talents, who becomes physically and mentally enhanced during his adventures.
The Elizabeth Swann is autonomously piloted by Captain Nemo, named after the Captain of the Nautilus in Jules Verne's classic: 20,000 Leagues Under the Sea. A stand alone unmanned navigation system. The ship is monitored by an artificially intelligent (AI) computer named Hal, after Stanley Kubrick and Arthur C. Clarke's character in 2001: Space Oddysey.
The ship is a real trimaran design study, with quotes for build in high grade 5083 marine alloy and other high strength materials, to include electric pod thrusters, solar wings that track the sun, and a fuel cell system to utilize hydrogen in many forms, to generate electricity for her submerged drives. The ship is Plastic-Free.
AI - Artificial Intelligence
Ark, The - The interactive DNA database developed by John Storm
Captain Nemo - The autonomous navigation system on the Elizabeth Swann
Copyright - Why is it king in Hollywood?
DCMS - Department for Digital Culture Media and Sport, UK Government - Creative growth competitions 2023
Elizabeth Swann - A hydrogen and solar powered ship
Hal - The AI supercomputer onboard the Elizabeth Swann
Innerspace - Deep blue submerged cities, life below the waves
Innerspace - Movie from 1987, starring Douglas Quaid, Amblin Entertainment
Innovate UK - Government agency aimed at kickstarting new businesses
Jameson Hunter Limited - Publishing SME
John Storm - A marine conservationist, paleoanthropologist, and explorer
Kulo Luna - A giant humpback whale
Outerspace - The opposite of inner-space (not quite)
Plastic Free - The John Storm Franchise is Single-use and GRP Plastics Free
Trademarks - Elizabeth Swann™, John Storm™, Kulo Luna™ Solar Cola™ Vikeen™
The Elizabeth Swann is to feature in a trilogy of original stories being developed by the Cleaner Ocean Foundation, by way of ocean and climate awareness campaigns.
The trilogy includes 'KULO-LUNA, 'CLEOPATRA THE MUMMY,' and 'TREASURE ISLAND,'
A second series could begin with 'THE HOLY COMPASS,' a natural follow on from Treasure Island.